Overview
Let's Work Together to Tackle and Adapt to Climate Change (Phase 2) Energy and Buildings
In June 2019 Perth & Kinross Council declared support for the Scottish Government and UK Parliaments' climate emergency statements. The Council committed to work with citizens and other stakeholders in setting out a route map to a low carbon and climate resilient Perth and Kinross.
The Interim Climate Emergency Report and Action Plan is the first stage in this journey. It is an interim document and forms the basis to start the conversation with our national and local elected representatives, our partners and communities about how we propose to tackle climate change together. This ongoing engagement process gives all partners and all citizens the opportunity to have a say in the proposals in the Plan. We aim to jointly develop targets with our businesses, communities and other stakeholders, taking into account different scenarios, and being realistic about the challenge and costs involved for each scenario. Similar to the Perth and Kinross Offer, everyone has something to offer when we talk about climate change.
Energy and Buildings has been identified as an area where we will have to make changes in order to tackle and adapt to climate change. This is because the way we heat and power our buildings is a major contributor to carbon dioxide (CO2) emissions.  Across all of Perth and Kinross the total carbon emissions from domestic buildings is 273, 300 tonnes, and non-domestic buildings is 289,600 tonnes - predominately from space / water heating, and the equipment we use in our homes and businesses. The ambitious and challenging Scottish Government targets for both the domestic and non-domestic sector are detailed below: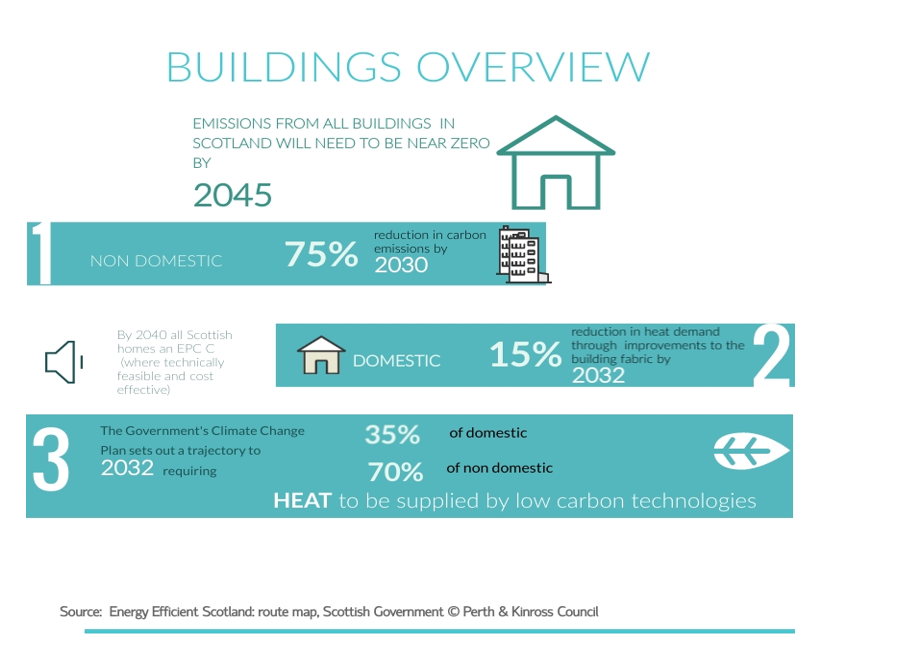 Future actions within both domestic and non-domestic buildings will involve difficult decisions, and a significant amount of investment, and partnership working, to achieve climate change targets.
You can view the Interim Climate Emergency Report and Action Plan below. If you have difficulty accessing this document, please e-mail us to request an alternative format.
Who Is Engaging
Perth & Kinross Council aim to reduce emissions to net zero and we recognise the need for the public, as citizens and consumers, to have a much larger role in shaping our collective future actions. This is consistent with the emerging work on the Perth and Kinross Offer where we co-create solutions with communities and stakeholders, to support everyone in the area to live life well. We need to support the mobilisation of community led action to help our area move towards net zero greenhouse gas emissions.
Who Can Participate
Anyone can complete the questionnaire including, but not limited to;
Individuals (All age groups)

Community Groups

Third Sector Organisations

Landowners

Others involved with food growing, health or climate change action
How We Are Engaging
This engagement process to tackle climate change consists of five phases, with each phase including a questionnaire. This is Phase 2 of our engagement process. Other phases focussing on specific topics are:
Let's Work Together to Tackle and Adapt to Climate Change (Phase1)
Land use (Phase 3)
Transport (Phase 4)
Business & Industry (Phase5)
All phases close on 31st Januay 2021 and are available on the Consultation Hub. 
Events
Virtual meetings and webinars (details below), and also:
Perth City Dealership Forum 2020 Conference – Friday 6 November 2020 and Friday 4 December 2020
Details on how to register to attend online at: https://mostsustainablecity.com/