Overview
Given the current Coronavirus outbreak, a decision has been taken to pause the consultation on Social Care Charges.

This online consultation will close as scheduled on March 29th. All submissions that have been made will be taken into account and will inform any decisions that are taken.

When it is safe to do so we plan to hold a number of drop-in consultation events around Perth and Kinross to gather more feedback from service users and residents.

We will inform you when we plan to restart the consultation process.
Perth & Kinross Council is currently reviewing its Adult Social Work and Social Care Contributions Policy. It is important that we hear the views of local people, groups, charities and organisations so that we can shape a joint vision for the future.
Proposals that could affect the amount some people contribute towards their care and support services are being considered. We would like to know what you think about these proposals.
Your comments and suggestions will help Councillors decide what changes to make.
Why We Are Consulting
Perth & Kinross Council implemented its current adult social work and social care Contributions Policy in February 2014 in preparation for the introduction of the Self-Directed Support (Scotland) Act in April 2014. The Contributions Policy covers all adult care and support services received by a person at home, such as homecare, day services, transport, short-breaks, telecare and sheltered housing support. You can find out more about more about these services here.
The Council considered revising the current policy in 2018 and at the request of clients and organisations, deferred implementation to consider a wider range of options and undertake more detailed work.
The policy, which covers around 3,300 people at any time has now been in place for five years and we want to make sure that it is still fit-for-purpose.
The Council currently contributes an average of 93.6% of the cost of care for adults receiving chargeable care and support services. Demand for services continues to increase. Introducing a policy where people who can afford it pay a bit more for their services will help ensure everyone continues to receive support and reduce the risk of services being reduced.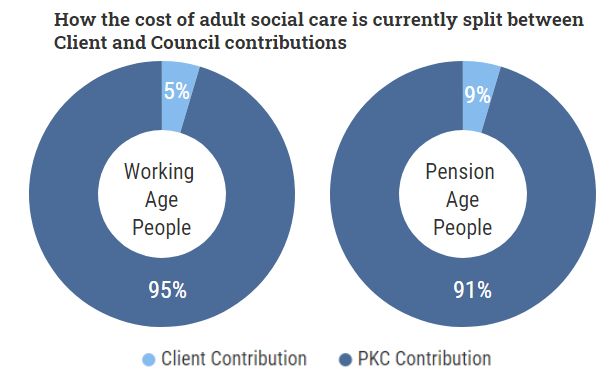 As part of the review several potential changes have been identified to bring the Council's policy more in line with national guidance on charging for non-residential care and support services.
This consultation outlines these potential changes and the financial impact they would have on both the people using our services and the Council.
The Council has previously been more generous than the national guidance recommends. However, at a time when there is pressure on our budgets and demand for care and support services is continuing to increase, it is proposed that the Council moves to be more in-line with the rest of Scotland.
Any additional income raised through a change of policy would be used by the Health & Social Care Partnership to sustain the current level of essential care and support services.
Care services will continue to be heavily subsidised by the Council. If all the proposals in this consultation were approved you can see from these graphics that the Council will still be paying the majority of care charges for clients, at an average of 89.8% of the total cost.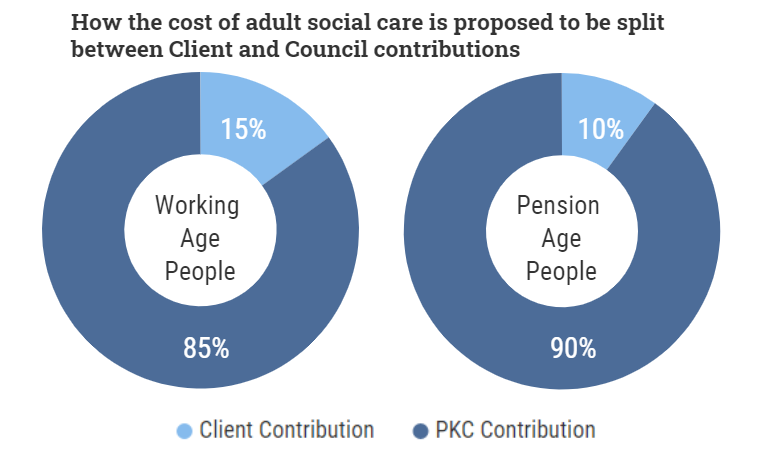 It is anticipated that if all the proposed changes were implemented, it would generate an additional £1.2million of income that would be used to provide Health and Social Care Services. This is the equivalent of any one of the following:
24 permanent fully-funded places in the Council's Care Homes (Dalweem and Parkdale)

37 permanent fully-funded places in a private/voluntary residential care home

32 permanent fully-funded places in a private/voluntary nursing care home

70,000 hours of urban care at home

64,000 hours of rural care at home

58,000 hours of enhanced care at home
NB: Where costings/savings are quoted against any review option, these are calculated based on the assumption that only that single change is implemented. Should more than one change be implemented, the costing/saving may not be an exact sum of the figures quoted as some changes will impact on the calculation of other options and the costings/savings have been calculated using current client information.
All current clients will be advised, in writing, of this consultation exercise to allow them the opportunity to provide individual feedback on the changes that will potentially affect them.
This consultation is being carried out by Perth & Kinross Council. Any information you give us will be anonymous and will not be used for any other purpose than described above.
Give Us Your Views